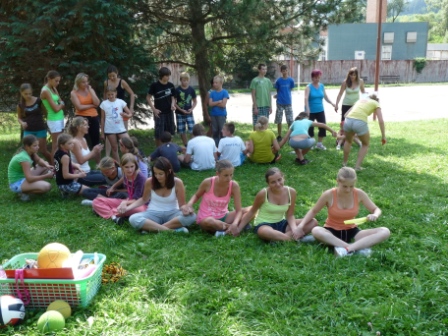 Sobota 4.8.2012. Budíček, rozcvička a raňajky. Kontrola izieb, pridelenie bodov. Štandardný rituál. Dnešný deň sa začína inak, ako tie predchádzajúce. Využívame oddýchnuté hlavy a ideme si povedať niečo o našich finančných inštitúciách. Som milo prekvapená, ako deti reagujú. Viacerých to zaujíma.
Pozeráme sa na produkty, ktoré pracujú s našimi peniazmi a na produkty, ktoré nám peniaze požičiavajú. Všetci začíname chápať pojmy bežný účet, sporiaci účet, termínovaný účet, vkladná knižka, kreditná karta, hypotekárny úver, spotrebný úver, povolené prečerpanie, kreditná karta.
Osobné voľno dobre poslúžilo na zresetovanie hláv a môžeme pokračovať s ďalšími dôležitými informáciami. Zopakujeme si čo vieme o rozpočte domácnosti a produktoch banky. Zisťujeme ako sa tvoria ceny tovaru, služieb. Pozeráme sa na ochranu klienta banky a porovnávame ju s veľkým rizikom, ktoré hrozí každému, kto sa obráti na nebankové inštitúcie. Naše deti sú ako špongie, nasávajú informácie. A to zatiaľ netušia, ako sa im to všetko zíde už zajtra v raňajšom kvíze. Ja ale viac dúfam, že sa im to zíde hlavne v ich praktickom živote....
Mňam, mňam obed a chvíľa oddychu.
Popoludnie venujeme zbieraniu Euráčikov pri športových aktivitách. Súťažíme v skupinách, vo dvojiciach a aj ako jednotlivci. Hra "DUCH" je bonusový level. Šantíme aj počas olovrantu a športové zápolenie končíme hrou "utekaj a nenechaj sa obliať" Všetkých nás to pobavilo, mokrí sme boli komplet všetci. :-D
Večerní program nás láka pred kúpeľný dom Aphrodite. Vypočujeme si county kapelu a ideme na zmrzlinu. Tam nachádzame ďalšiu kapelu a tá sa nám páči ešte viac. Večer už pokročil, tak ideme späť do penziónu. Po ceste si jedna slečna vyslúžila kúpeľ vo fontáne a už sa všetci tešia na večernú oblievačku a opekačku.